SIZING + TIPS
Here at Hannah Naomi, we've dedicated the last decade to crafting size-inclusive jewelry. Creating quality pieces that fit every individual is our #1 goal.
WE CRAFT RING SIZES 1-16
INCLUDING FULL, HALF + QUARTER SIZES ON EVERY DESIGN.
We know that finding the right ring size can be tricky, so we've put together some helpful tips for measuring your ring size at home.
If you happen to live in Portland, Oregon, we'd love for you to stop by our shop for an in-person sizing experience.
SIZING FAQ'S
WHAT IS 'US FASHION RING SIZING?'

US Fashion Ring sizing is a standardized system used to determine the circumference of a person's finger in order to accurately size a ring. Fashion jewelry is designed to be versatile, allowing you to switch up your accessories frequently to match different outfits and occasions!

KEEP IN MIND: Bridal Ring Sizing is typically scaled differently since they are not meant to be taken on and off regularly like fashion jewelry. Your Bridal Size will not always align with your US Fashion Ring Size.

We're committed to helping you find the best fit possible and offer support and guidance throughout the process. Whether it's through our online resources or in-person assistance at our Portland, Oregon shop, we're here to ensure that you're satisfied with your ring sizing.

It's worth noting that, even with standardized sizing systems, there can still be variations between jewelers and different styles of rings. This means that, while we craft rings accurately to their size, it may not always fit identically to other jewelry you may have. Please see below for more info if you are unsure of your size or only know your Bridal Ring size!
WHAT ARE THE MOST COMMON RING SIZES?

In our experience, the most common ring sizes for women range from sizes 5-10, with a size 7-8 being the most popular. Midi or knuckle rings typically range from a US size 1-5, with sizes 2 and 3 being the most common. Popular men's sizes tend to be around sizes 8-12.
WHAT IF I ONLY KNOW MY BRIDAL RING SIZE?

If you only know your bridal ring size, haven't been sized in many years or just have no idea where to start, we highly recommend checking your size at home before placing your order. *Bridal Ring Sizing is almost always scaled differently than US Fashion Ring Sizing. Wedding bands are often made using processes we do offer like casting, 'comfort fit' bands or precious stones. All of these can effect the way a ring fits your finger.
WILL BE RING SIZE ALWAYS BE THE SAME?

Nope, ring sizes are not set in stone!

Changes in weather, hydration levels, elevation and many other factors contribute to your fingers swelling to various degrees. Also, it is very common for each finger on each hand to have a different size. Your dominant hand is usually around a half size larger!
HOW DO I SIZE FOR WIDER RINGS?

For rings over 3mm in thickness,

We suggest sizing up by quarter to a half size, from what you would choose in a thin stacking ring. Bold, larger styles in our collection include the Wraparound, Shield,  Interlocking, Cage Ring etc.
WE SIZE UP FOR YOU ON RING SETS OF 5+

Stacking rings tend to fit best when they aren't too tight.

They are meant to space out across your finger and move independently. For this reason we size up our ring sets of 5+ by a quarter size per ring for a more true to size fit. For example, if you order a set of five rings in a size 7 each individual ring will be sized to a 7.25. If you would like us to send the rings without automatically sizing them up, just leave us a note! :)
KEEP IN MIND:

Proper sizing is more of a personal preference than a perfect science.

A comfortable ring size should fit over your knuckle with very light effort. To test if the ring is too large, shake your hand with a loose wrist (think overly vigorous jazz hands or pretend you just touched a hot surface). If it feels like the ring could fly off then we may suggest sizing down. We do not recommend sizing with string or trying to measure the diameter of a ring you already own. Both of these methods leave too much room for error.
RING SIZING TOOLS

We have at home ring sizer kits available if you would like to be 100% confident you're ordering the correct size.

The sizing kits will ship out in a stamped USPS envelope within 24 hours of purchase and should arrive to US addresses within 10 business days. 

Use our Printable Ring Size Guide to determine your approximate size from a ring you already own. 

This is a great tool if you are looking to buy someone a gift but don't know their size. Please follow the instructions carefully!

ORDER RING SIZING KIT

NECKLACE SIZING

PICKING A LENGTH

All bodies are unique so the actual fit may not be identical to the reference image.

Short (14-16") Great as a choker or shorter necklace.

Mid (18-20") Perfect for an everyday chain and adding pendants.

Long (22-24") Our longer option for a bolder look.

We also offer custom lengths if you prefer! Necklace lengths are measured from end to end of the chain. Just send us a message to get a custom length ordered.

OUR CLOSURES

Each necklace closure is made by hand and is very secure. Some use our classic hook closure, while some styles have a lobster style clasp. Please see item descriptions for details! If you want to switch out a closure style, just let us know and we would be happy to help!

SHOP NECKLACES

BANGLE SIZING

Our printable sizing guide is a great way to determine the bangle size of another bangle you have at home!

Just make sure to print this guide at 100% on US Letter Paper to ensure the sizing is accurate.

HOW TO MEASURE

Stretch out your hand, tuck your thumb underneath your palm and squeeze your hand together to make it as small as possible. Then, take a ruler and measure the length straight across the widest part of your hand (usually straight across your knuckles). This will allow you to measure the smallest bangle diameter that will fit over your hand.

WATCH OUR VIDEO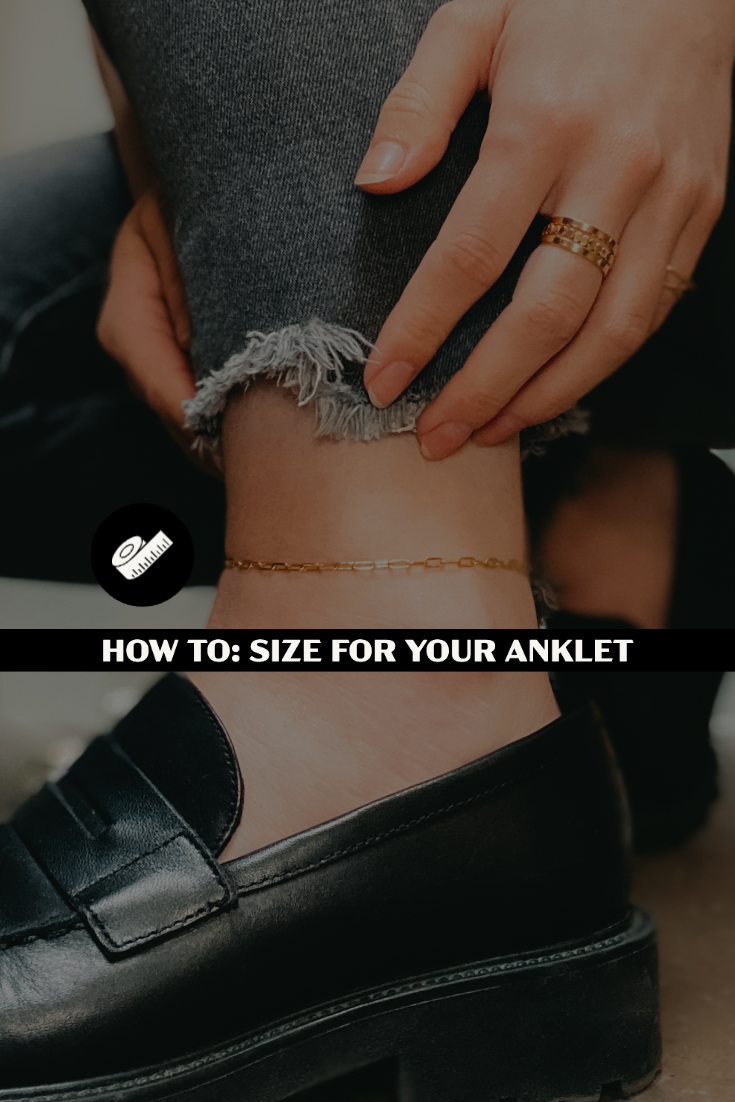 Check out our guide to help you find the ideal size for your anklet. Whether you have a tape measure or just a strip of paper, we've got you covered.
READ IT ON THE BLOG
Watch our video tutorials!